After three riveting months living the digital nomad life in Seoul, South Korea, I arrived back in warm and boisterous Bangkok to chart my next move.
With regular international flights, Bangkok is an ideal landing destination before exploring Thailand and South East Asia.
I'm in Bangkok for 48 hours, before I head to Chiang Mai for some peace and quiet. In the my time here I've attended to some tasks and explored the area around my hostel in Sukhumvit.
Here are some of the places I worked from, and some lessons learned. It's a quick visit.
Bangkok is a Developing City
Thailand remains a work in progress. You have to keep your wits about you, and be prepared to question requests for money or help.
Great strides have been made in public transportation and infrastructure, but Bangkok suffers from congestion and pollution from choking traffic and industry. There are a lot of coughing people I worry about.
After experiencing Seoul's world best metro and bus system, Bangkok deserves some credit for its improving MRT subway network. Ride prices depend on distance, but you'll pay in the region of 10-30 baht for most trips.
The biggest difference leaving Seoul, evident immediately, is that there is no free wifi.
Even cafe hotspots are locked with passwords requiring a purchase. I could not connect to Google Maps on any free station wifi – there is none. This caused an issue with a typo in my Maps search taking me to a whole other location and I had to buy a drink somewhere to connect.
Hence, in Thailand, to be productive and reliably safe, you need a SIM card. You can pick one up, with data, for around 300 baht, from any 7/11.
There are no shortage of Western conveniences here, food, drinks, cafes and what not, and Bangkok makes for an intriguing short stay location.
First Moments – The Uber Driver Ripped Me Off
A useful reminder to be careful came in my first Uber in three months (no Uber in Seoul).
Free wifi at the airport allowed me to book an Uber for the late night, low traffic drive to my hostel. The driver asked me repeatedly to pay 100 baht for us to take the expressway – "saving 30 minutes" and cost. I refused, more because I had no spare cash, and sought to avoid crazy ATM fees.
A while later, he spotted an ATM and I relented. To take out 2000 baht, it came with a 220 baht / $10 fee.
His "100" baht for the toll clearly showed "25" paid on the machine. The 325 baht ride cost me 645 overall. Uber wound up refunding me 100 in credit. It was unfortunately dishonest.
The next day, a driver taking me to the NexDots co-working space tried asking 200 baht for a short drive. He was sincere and told me that times are tough in Thailand right now for money. I paid him 100 in the end.
The lesson: Agree to the price before you proceed, and services like Uber are set up for a reason. Any unreasonable cash demands should be questioned.
Thai Banks are Highway Robbery
The reason I didn't want to use an ATM outside of the city was the exorbitant ATM fees – over $10 to take out cash. I had enough baht for a bus ride to my hostel, and the Uber driver's request for cash tolls was unexpected.
Taking 220 baht to withdraw money is criminal, and suggests Thai banks are fleecing their populations and visitors. Almost a prime candidate for blockchain banking to replace these institutions.
On a second withdrawal, Citibank charged 200 baht. There are not currently enough cashless pay systems around Bangkok to avoid withdrawing money.
Tip: Take out as much cash as you feel safe carrying, ideally in two places (main wallet, secured passport wallet).
Working spots and cafes in Bangkok
Coffee culture has hit Bangkok, like so many other places. The improvement of wifi and quality of connectivity allows for excellent experiences at cafes and co-working spaces in the Thai capital.
Here are the places I visited.
ARTiS Cafe
After expensive coffee prices and few breakfast options in Seoul, it is refreshing to find quality coffee and a fresh croissant stuffed with roasted vegetables for 195 baht (USD 6 / AUD 8 / KRW 6500).
The ARTiS flagship store is in Berkeley California, and they bring the chill West Coast vibe to Bangkok. There is a counter ideal for a row of laptops, with power points – the only area with power.
This is a hip, intimate air conditioned cafe with a large outdoor terrace. Wifi is fast.
ARTis – 390/20 Sukhumvit Road (Soi 18), Bangkok
Hollys Coffee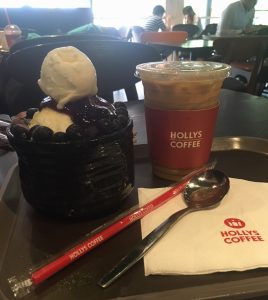 Hollys is my favourite coffee chain in South Korea, and it was a nice surprise to find their Bangkok counterpart. Their cafes are consistently nice, modern, clean buildings, and they offer tasty coffee and dessert treats.
The wifi was slow at first on the second floor, but sped up the more time I spent here. Not the best. There are numerous wall power outlets. Comfortable to work from for hours – and it is open 24/7.
Korean music even features on the sound system!
Hollys Coffee – 219/1 Sukhumvit Rd, Khlong Toei Nuea, Watthana

Brainwake Cafe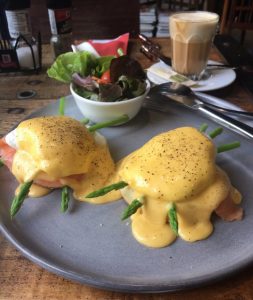 I am all about the Brainstorm, and finding this acclaimed cafe nearby was fate at its finest.
The slogan is, "Upload Knowledge Stimulate Minds."
Quality coffee – I tried a Piccolo Latte – with the first Eggs Benedict with Salmon I've enjoyed in recent memory. Wifi is strong, the vibe is modern and chill, and the service is excellent.
Cost for proper coffee and breakfast – 245 baht ($8).
Brainwake Cafe – 27 Sukhumvit 33 Alley
Co-Working in Bangkok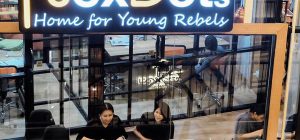 After picking up my train ticket from the Travex office, I made my way to NexDots, a new co-working space.
Open 24 hours, NexDots features super-fast wifi, and an excellent cafe with decent coffee and other drinks. There is a food menu for snacks.
The space is located on the second floor of the IM Park shopping centre. There are numerous restaurants, coffee shops, a Tesco supermarket, and other shops.
Rates are 50 baht an hour for non-members, and 250 for 6 hours, with private and group rooms available. There is a more studious vibe about co-working spaces you can't normally replicate in a cafe.
NexDots – 2nd fl. Im Park, Soi Chula 9, Pathumwan, Bangkok
Accommodation in Bangkok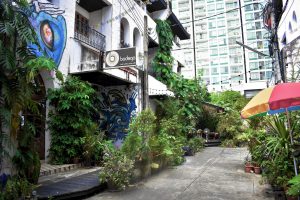 "Digital nomads" seeking to work and "party hostels" are not the most ideal match.
I had personal reasons to stay at the same place from which I departed for Seoul three months earlier. When I woke in the same place, it did, indeed, feel like Korea was a dream!
Now called, "Slumber Party by Bodega", this is a party hostel near the legendary Soi Cowboy area. It has a super relaxed and social vibe, with a bar, restaurant and loads of drinking games.
Bodega has some of the most comfortable bunk beds, rooms and showers I've enjoyed anywhere in the world. Thick, soft mattresses, big pillows and blankets. 24 hour check in and bar are useful features.
The wifi is solid, and there are several places to work from. I spent a couple of hours researching, while a dozen youngsters played some sort of Truth or Dare, resulting in swapping clothes and some nudity.
If you like drunk people and nudity, check out the sex tourism hotspot of Soi Cowboy, a 10 minute walk away. Many people come to Thailand just for this accepted part of local society, and this is one of the main areas.
Slumber Party by Bodega – Sukhumvik
Thai Food is Affordable and Excellent
This is well known – Thai food is fantastic! Food prices are extremely affordable, with anything from street food, supermarket purchases, to fancier restaurants.
Pad Thai is the famous dish, but there is a wide variety of local and international cuisines. Street food is cheap, tasty and safe.
Be careful drinking tap water in Bangkok – bottled water is recommended.
Alcohol is very cheap, dangerously so.
We'll cover food in much more detail in our wider Thailand feature.
Reflections after 48 Hours in Bangko
Bangkok is like many big capital cities, typical of Asia. It's sprawling, overcrowded, noisy, polluted, and, occasionally, aggressive – be it street workers or drivers. 48 hours in Bangkok is enough for me.
The older I become, I prefer to chill near nature, with conveniences and interesting arts still accessible.
Thai people are, as a whole, lovely, polite and respectful. It makes for excellent quality of service and a general sense of safety.
For digital nomads, Bangkok is a useful place to accomplish your work in a buzzy atmosphere. It's ideal if you need to network with big city business types and a metropolitan crowd.
You can live here for cheap, enjoy delicious food, and find good cafes from which to work for hours.
If you're looking for something a little more peaceful in nature, consider traveling to Chiang Mai. I head there tonight.