Update – We remain in Arambol during the present world craziness. If you're a writer or nomad, consider joining us every Wednesday at KittyMasala (on the road to Food Planet), Arambol, for our weekly writers meetups – 2-5pm!
Goa, on the West coast of India, is one of the most special places on the planet. A visit all worldly, youthful travellers should make at least once in their lifetimes.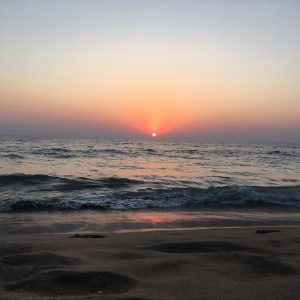 It feels like a rite of passage. Younger travelers, festival goers and artists stop through one of the many, diverse beach communities of Goa to expand their spirituality and consciousness. Older visitors enjoy the smooth, clean sand, warm ocean and beautiful views. Couples deepen bonds.
Many people come and decide to stay forever. At least, for as long as they can, and during season. Old hippies. Yoga in abundance.
As a former Portuguese colony, the buildings feature a distinctly bright and coastal flair. There is a huge Russian influence, evident in the populace and signage, while barely any Americans.
People come for the nightlife, parties and festivals, in excellent climate, satisfying food, all highly affordable.
With all these attributes, it's no surprise that there are many digital nomads that come to Goa, and land in Arambol specifically.
But is it an ideal place to accomplish work?
Need help with anything in north Goa? Airport pickups, hotel/guesthouse bookings, scenic tours, bike/car rentals, general taxi? Contact Gauresh on mobile / Whatsapp / Telegram (+91 77758 47576 and +91 99235 68868). You can also email Gauresh on gaureshnaik0708@gmail.com
Why Arambol Beach?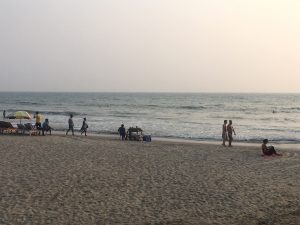 As discussed in my upcoming book, Plan Sea, dreaming and research are essential steps of affluent travel preparation. Do your homework for the best possible experience based on your wants and needs.
Goa is not simply an area – it's a full, albeit small, state in Western India. There are many beaches and communities from which to pick. It takes a very long time to travel between places.
South Goa is vastly different than North Goa. South Goa is far quieter and less about parties. Anjuna and Vagator beaches in the south part of North Goa are for more hardcore festival goers, while Arambol Beach towards the northern part of North Goa, is more bohemian and artistic. I chose the latter.
I met countless other writers in Arambol. The level of intellectual thought and consciousness here is refreshing. The journeys from and to, with Goa a well-designed stop in the middle, have brought all of us together in this little, mutual portal of time.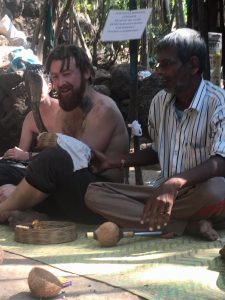 If you enjoy exploring, you can walk north along the coast, and reach a more secluded Paliem Beach. It's next to a stunning lake and trees area called Sweet Lake. There is an epic banyan tree where you'll meet pseudo-traditional babas, blessing you and asking for money and alcohol. Sometimes they have snakes!
There is a small mountain to climb, and if you're game, you could probably pitch your tent somewhere.
Travellers and Digital Nomads in Arambol
Arambol is the first place I have encountered so many similar travelers with unique, often complex, travel histories and multiple nationalities.
Adventurers on so many different variations of voyages, short, long and longer.
Though, perhaps, a minority compared to the overall tourist numbers, I noticed many other digital nomads in Arambol. Usually, mid to late afternoon, with scenic views of the beaches and ocean, hurriedly typing away on laptops.
The realities are that daily power cuts, Internet irregularities and regular distractions add challenges to a productive digital nomadic lifestyle. Wifi is inconsistent. 3G/4G mobile reception is not the best, often resulting in no signal. You'll need to be patient and have some sort of back up plan. Having a book I could write offline helped keep my productivity high when inspired.
For me, utilising the coworking space of No Name, was essential.
Wifi Cafes in Arambol
While most guesthouses and restaurants offer some level of wifi, connection speeds are not the best. Fortunately, there are a few spots I found that allowed me to work productively enough.
Bees Knees – A restaurant in a chilled setting on the main strip, Bees Knees features various breakfast specials for around R190. I ate and worked from here three times, enjoying the serenity (and the wifi that usually worked!)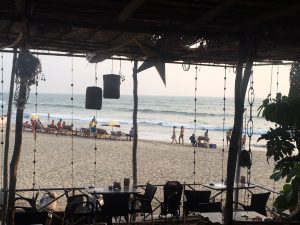 This is It – On the north part of the beach, This Is It is well situated view ocean views and a social hub due to foot traffic. They offer tantalising dosas from R40, and a sensational ice coffee with chocolate called a Tropical Iceberg. Wifi is satisfactory. I spent many a day losing myself for hours at This is It, sometimes productive, often social.
No Name – A guesthouse and restaurant, the rooftop of No Name is designed as a co-working space. Perhaps one of the best views and locales of any digital nomad-friendly workspace in the world! Ocean and nature panorama in a shady setting, with fast wifi and access to tasty food and drink. I spent most of my more "serious" work time at No Name. R1000 per week, R300 per day, or R50 per hour for fast Internet.
Black Pearl – Popular cafe with decent coffee. They seemed to suffer more from power cuts than any other place, resulting in diminished wifi. I was unable to work from here between lack of power/wifi, and the small space that was usually full of people sipping coffee.
La Cayden – The rooftop is super chill with the best beats I heard in Goa. Nice restaurant. Wifi was decent. I mention it for those seeking prospective work options, but whenever I was up here I was generally with a social group.
Places to Stay in Arambol
There is no shortage of places to stay in Arambol, suited to your budget and style. If Arambol itself is too busy for you, try more south at beautiful and quieter Mandram and Morjim beaches.
While I couldn't quite bring myself to stay at a place called Cocks Town, a sub-$8 beach hut with a double bed, it's proximity to the beach and Arambol action is attractive.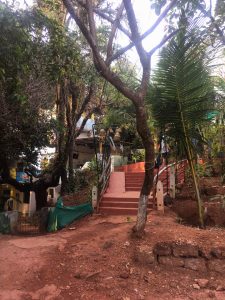 Roadhouse Hostels (Arambol) – An excellent starting choice for Arambol. The social area as you enter the property is perched at the top of a small hill, everybody that comes and goes is greeted by those around. I met many wonderful, engaging people at Roadhouse, from the very first night. Artists, writers, philosophers, musicians, from all over India and the world. We formed a crew for my two weeks in Goa from my early Roadhouse days. Dorms from a few hundred rupees, though I splurged for a private room at R500 a night.
Love Temple was recommended by one of my Roadhouse crew. It is a more feminine space, in the middle of the beach, geared towards yoga and meditation. The fresh and organic food, while a little pricey, is top notch. The locale is second to none – gorgeous beach views and a very chilled vibe. Lots of lounge area places to sit. The wifi was usually fine early in the morning, but drastically deteriorates as more people visit the popular place. Dorm beds (not bunks) from R400 per night, private bungalows available.
La Cayden – After a week of illness due to unwashed strawberries from a street vendor, and weeks sleeping in a tent ahead, I wanted to treat myself to a proper bed. La Cayden is beside No Name, from where I heard their awesome downtempo and bassy beats. I found a special on booking.com making a few nights there worthwhile. Super, spacious room, big bed, small balcony, and legitimate hot water shower. R600 per night on special.
I was keen to set up my tent, but between a brief illness and impromptu social plans, it didn't happen on this trip. Also, guesthouses are so affordable at a few dollars per night, most people don't think about camping.
Cash and Currency
One of the many challenges of Goa life is the lack of convenient access to money.
Most places do not take bank cards, relying instead on cash. This means you have to venture out of Arambol town, to one of the two ATMs in the main village. It's a twenty minute walk at a good pace.
The first ATM usually has a long line waiting to withdraw money. Your bank card might not necessarily work. The machine often runs out of money.
A tip is that there is a second ATM a few more minutes up the road most people are too lazy to walk to – or don't know about. If this first ATM has a line, out of cash, or has problems with your bank card, continue walking the same direction away from Arambol, and there is a small ATM on the right.
One of my temporary acquaintances shared similar problems withdrawing money, though the second ATM worked for me. I think a temporary bank block was placed on her card, preventing her from trying again.
I shared with her one of my travel tips – using your foreign currency at a money exchange shop. This tip helped her greatly, and she was able to exchange thousands of Russian rubles for Indian rupees (virtually the same exchange rate).
Other tips in my book include traveling with a second or third backup bank card, designed for travel. Not just in case your main card doesn't work, but if it's stolen, as mine was in Cambodia. Keep a little cash on it, and stored separately from your main wallet or bank card.
There is no cryptocurrency possibility yet in Arambol or Goa, no Bitcoin ATM, or any place that currently accepts it.
Transportation around Arambol and Goa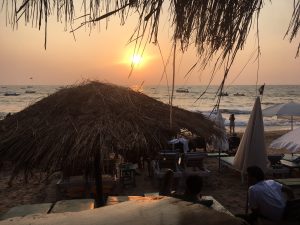 Taxi cartels run Goa, making life difficult and expensive for you to get around, challenging enough to begin with.
There is no Uber, Grab or Ola, though ride sharing appears to be on the way. Getting between main parts of Goa is extremely expensive, so pick your home base location wisely.
Use a ride sharing board or group if you can. Putting a post out on Facebook found me one person to share a taxi to the airport. Personal networking and luck found me another – dropping the usual price to the airport of R1800 down to a more palatable R600 for each of us.
If you prefer the mobility of scooters and motorcycles, these are the transportation methods of choice in Goa. Scooters run from around R300 per day (really around 12 hours for an early morning drop off), so it's best to rent multiple days, where prices can drop to R150-200 range, and you get to return it at the end of the final day.
Be very careful driving, and even walking, around Arambol and Goa. There are many drunk, stoned and distracted people driving around. This results in many accidents and injuries. Police will stop you on the main roads between the different parts of the state (e.g. between Arambol and Vagator), and fine you if your passenger isn't wearing a helmet.
You can take public buses to/from the airport or train station, head to the capital, Panaji. From there you'll be able to piece together 1-2 buses to reach your chosen destination. R30-50 per bus.
Airport pickups, scenic tours, bike/car rentals, general taxi – Contact Gauresh on mobile / Whatsapp / Telegram (+91 77758 47576 and +91 99235 68868). You can also email Gauresh on gaureshnaik0708@gmail.com
Nightlife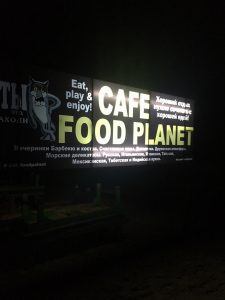 This could be a whole separate article or even blog. Goa is renowned for its nightlife. It is the epicentre of the original psychedelic trance scene that starting shaking the world decades ago.
There is no shortage of live events in Arambol. There are numerous live music venues, smaller live performances at numerous guesthouses and cafes, and the occasional beach party. The Source, Lost in Nature and Ash are just three examples. We found a techno party on the beach outside Cafe Food Planet.
As mentioned earlier, if you're all about the big psy-trance parties, head to Vagator and Anjuna. For Arambol, there is a little more emphasis on live music, poetry and spoken word, chilled out beats and a nightly drum circle outside Love Temple.
Whatever your entertainment tastes, Goa has it somewhere. Arambol features more than enough variety and choice to immerse yourself there for a few weeks without leaving.
Note that "season" is from the later part of the year, through to early March. After that, the parties and crowds dry up. This may be to your liking if you want more peace and quiet!
Thoughts on Arambol Goa for Digital Nomads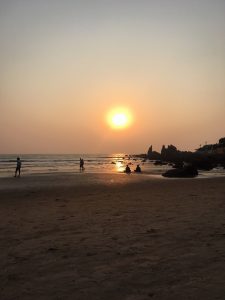 My two weeks in Arambol became one of the most peaceful, uplifting and enjoyable times of my life. This commenced an unexpected spiritual journey, through connections I made, and seemed to be destined to make.
The work perspective depends on your personal level of discipline. There are distractions everywhere. The weather and vibe is incredibly sleepy and serene, and if you smoke green, it's regularly accessible.
For digital nomads in Arambol, if you can take care of your work earlier in the day, accept that you may not always be optimally productive, and balance enjoying life and accomplishing work, you'll thrive.
Arambol ticks all the digital nomad boxes: weather, food, chilled vibe, close to beaches, cool crowd, things to do. Wifi connectivity and local transportation could improve.
Goa life is an adventure and reiterates what life is all about: Living. Balance that work/chill lifestyle, and enjoy every moment while growing as a human.
Check out my upcoming book, Plan Sea, due in September 2018.