The week that was further settled into Krakow life.
First, we continued our series of exploratory weekend expeditions, heading West towards the Czech border. Our mission was to wild camp near prehistoric boulders, close to the Czech town of Teplice nad Metuji.

Spending Friday night in the former German city of Wroclaw, we were impressed with its energetic yet laid back vibe. Enough interesting attractions, restaurants, bars and cafes to consider a more lengthy return.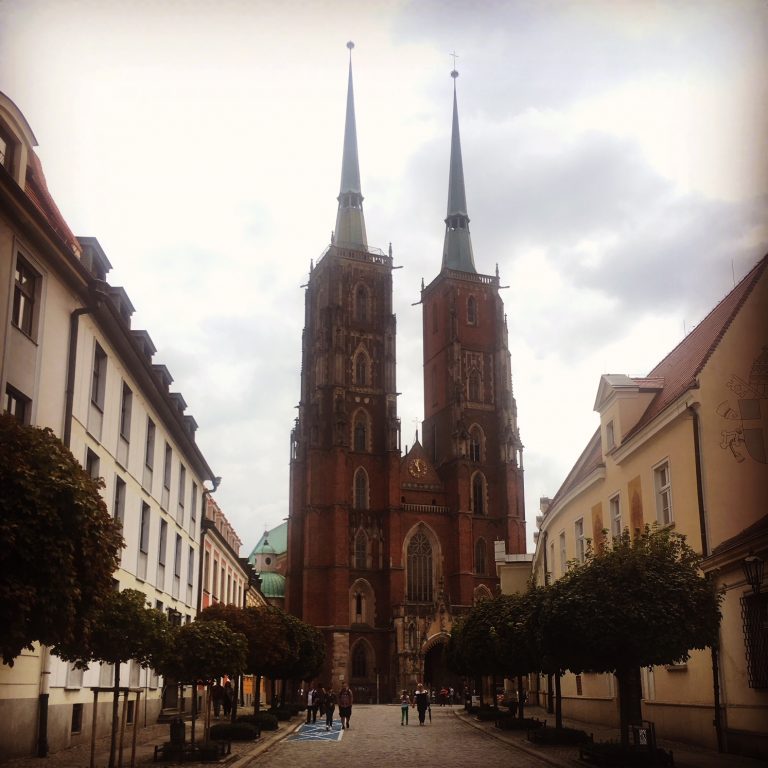 After a superb Saturday morning breakfast at Wroclaw's acclaimed Central Cafe, we walked around the old quarter, and along the river to the historic St. John's Cathedral. Even the tourists here are more chill than in Krakow, Lublin or Prague.

Continuing on our way through western Poland, we saw signs for a pair of famous castles. One – Ksiaz Castle – was on our way to the Czech Republic.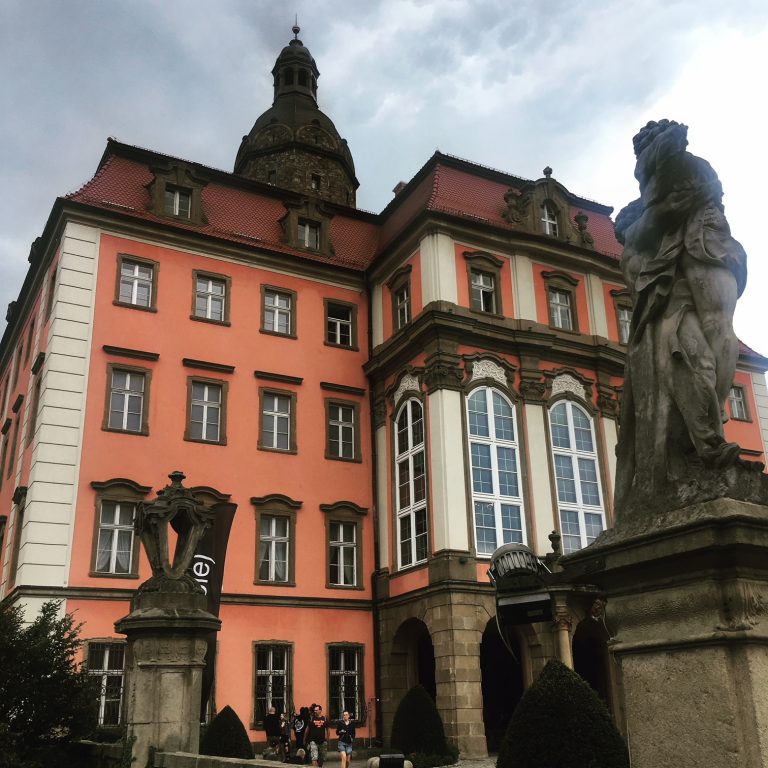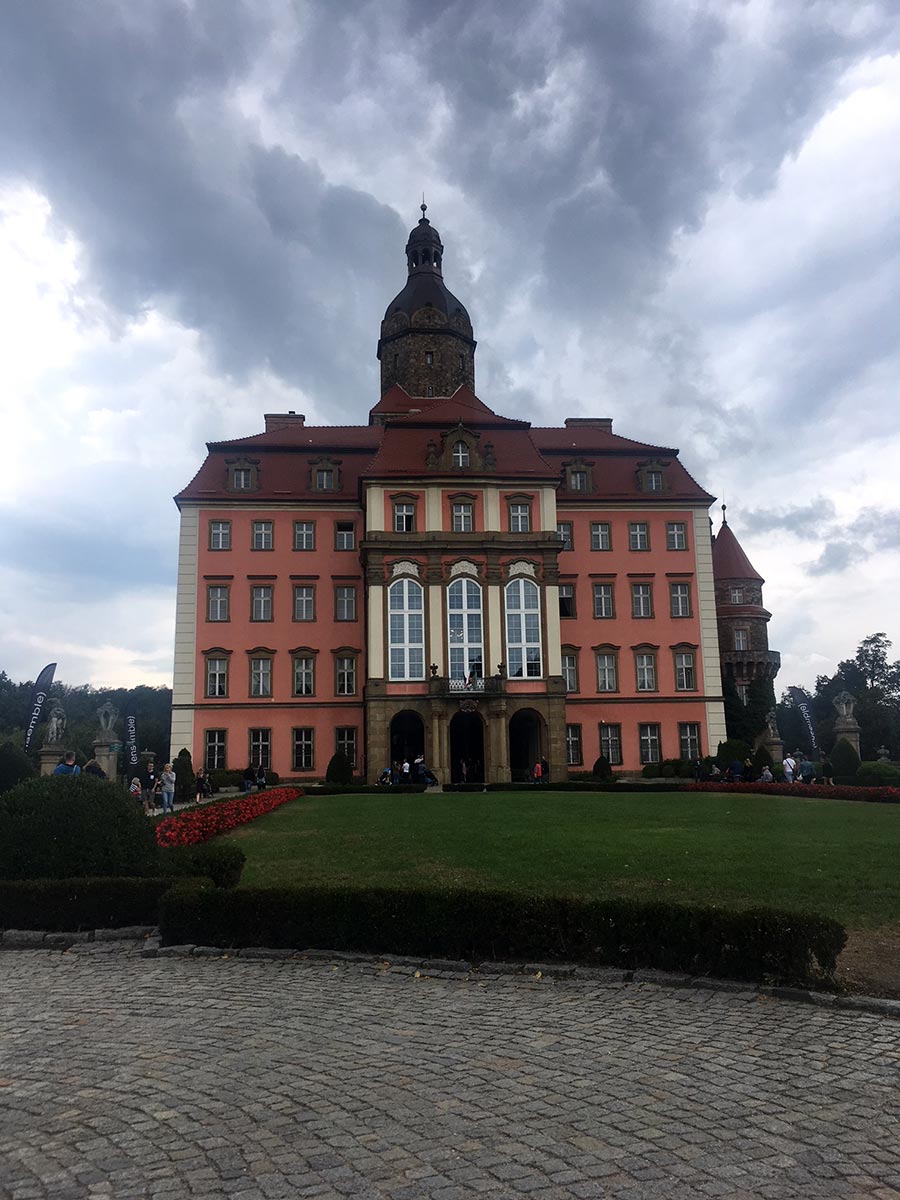 The castle is housed within a vast, lush forest, full of tall, old trees, and panoramic views of the Polish countryside.
They charge tourists an unreasonably high fee to enter the main estate.
Instead, we walked around the walls, and slipped in through the adjacent hotel entrance! This guard was not watching, though further guards inside the castle prevented us from accessing the castle interior, or the lower pathway around the castle.
Stumbling upon a Mountaineering Film Festival
Back in our car, eventually we crossed the very narrow border to the Czech Republic. Immediately, we navigated through the Adersbach national park area, and headed a few miles south to the town of Teplice nad Metuji.
Approaching the town, we were surprised to see more and more people around.
We discovered the town was hosting the 35th annual International Mountaineering Film Festival! Many hundreds of aspiring mountaineers from all over Czech, Europe and the world descended upon Teplice nad Metuji for this respected festival.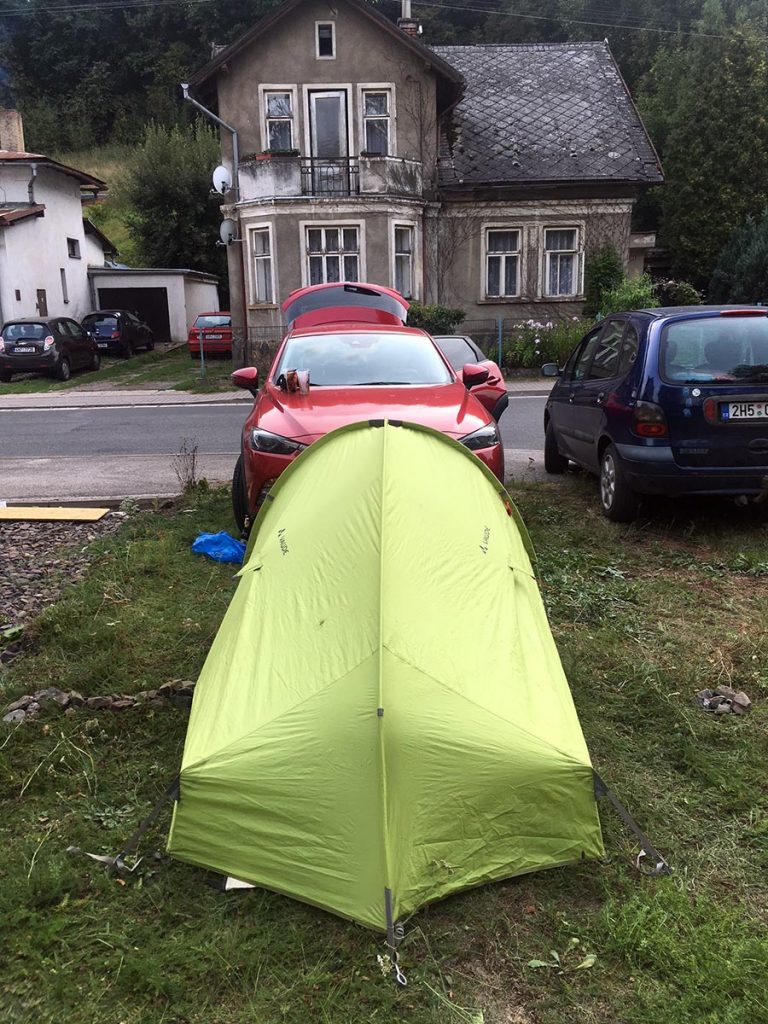 This allowed us to pitch our tent for free in the centre of town, with hundreds of other campers. Picking a relatively secluded spot in front of our car, away from the other campers, maintained sufficient privacy.
The festival itself was full of stalls selling mountaineering gear and related merchandise. There were several food and drink stalls, a music stage, a big open air cinema screen, and films screening in the indoor Kino theatre.
After a long day of walking around Wroclaw and a giant castle estate, and hours in the car, I was exhausted. I fell asleep early, but it sounded like fun, particularly the main headlining rock band.
Between the Czech language and my lack of mountaineering acumen, I felt very out of place, almost anonymous, in the middle of these revelers. Maybe if there was an underground music stage?
Boulders at Adersbach
A relaxing start to Sunday refreshed us for our small hike to see the Adrspach-Teplice Rocks. These are impressive, huge sandstone formations, millions of years old.
The entrance closest to Teplice nad Metuji was predictably packed with tourists and aspiring mountaineers. The entrance fee was too high for our liking, but there wasn't an easy way in past the wall of boulders.
Driving a little further into Adersbach, there were still a lot tourists and the entrance fee. A short walk away from the entrance uncovered a shallow river that enabled us to cross over wet stones, and enter the park unnoticed.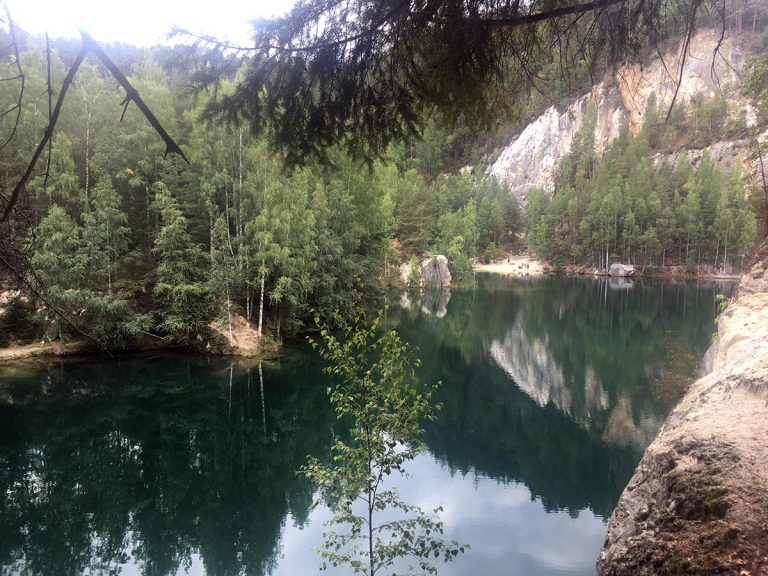 Once inside, we marveled at the intense green-blue colour of the lake, surrounded by boulders. We walked around, finding a less-traveled path, climbing a hill through an old forest for some quiet time and meditation.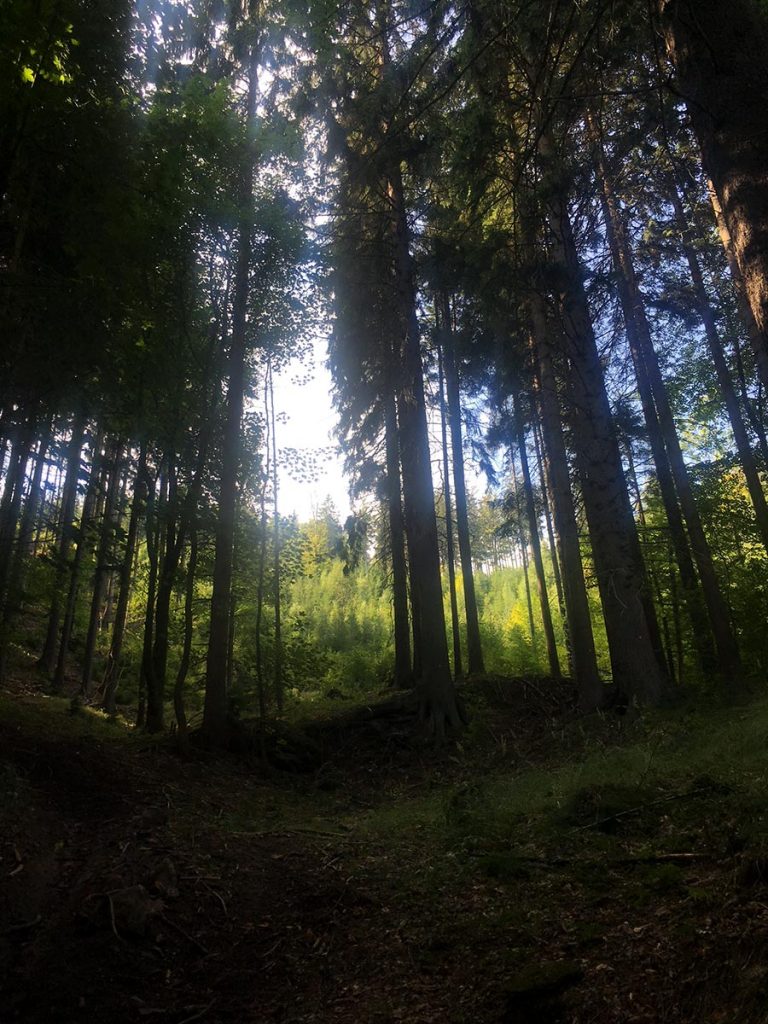 The Best Lunch View in Poland?
Heading back a different route towards Krakow, we first stopped at a sketchy little Czech border town called Broumov.
With barely any people around, and very few restaurants, the vibe was unwelcoming and icy. Instead of lunch, we drank an ice coffee, before returning to the car.
A blessing in disguise, driving a little longer down the highway, we pulled off into the hills near the Polish town of Klodzko. A sign for a restaurant encouraged us to climb higher and higher.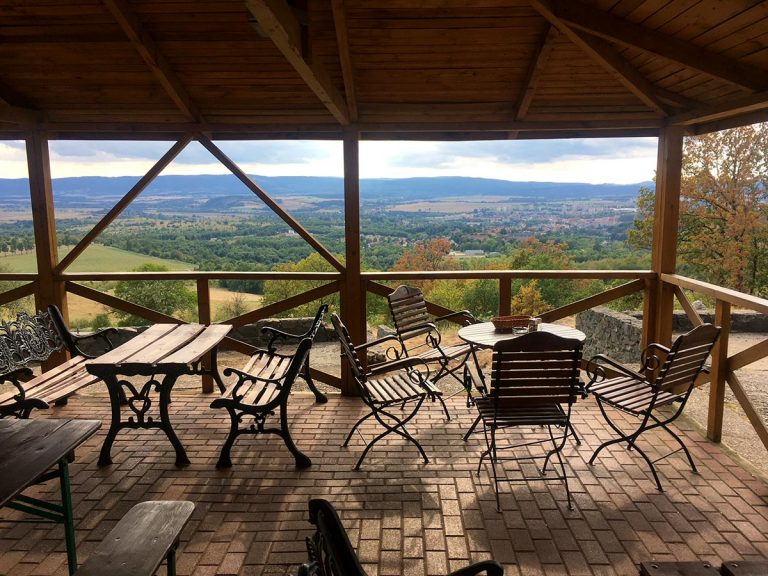 At the peak, we were treated to an impressive, sweeping panoramic view of this region of Poland, with Klodzko far beneath us. Lunch included traditional Polish food such as potato cakes and a soup.
A little after sundown on Sunday we returned to Krakow, rested and recharged by our latest fulfilling adventures.

First Krakow Digital Nomads Meetup On Wednesday August 30 at Krakow's food truck corner Truckarnia, we assembled the first meet up of the new group of digital nomads and freelancers in Krakow. We enjoyed traditional Polish food, and frothy, well-priced Polish pivo.

The meet up was attended by nine nomads, and a random visit by a high school photographer touting custom-made postcards. Diverse nationalities included two Ukrainians, a Brazilian, Italian, Polish-Korean, American, British, New Zealand-Canadian, Israeli, and one native Pole.
Remote work roles included a successful Amazon sales affiliate, a travel writer who sculpts high end experiences for well-paying clients, a sustainable environmental practices manager, a blockchain programmer, various freelance writers, developers, and the founder of Collaborate, Krakow.
We aim to organise (roughly) monthly gatherings, with the next Krakow digital nomads meetup around the first week of October.
Collaborate, Krakow Celebrates 2nd Anniversary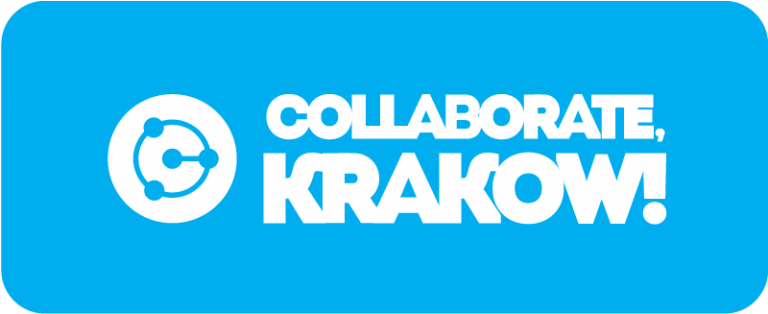 On Thursday evening beside Krakow's Vistula River, members and friends of the Collaborate, Krakow, a community built around social activism, met to celebrate their 2nd birthday.
Collaborate, Krakow welcomes all nationalities, ethnicities, sexual orientations and genders, helping warm new arrivals to the city and network together creative and social-minded individuals.
By promoting a socially active community, we empower Krakowians to engage in challenges and create impact in their daily lives. We act as a bridge between diverse individuals and community stakeholders to build relationships for a common goal: make the world a better place.
Collaborate, Krakow is housed at the NGO workspace, Ambasada Krakowian. You can work from here for a small fee, and mingle or brainstorm with like-minded, conscious individuals.
The Weekend, and Week, Ahead
We're taking it fairly easy and lazy this weekend, remaining in Krakow to enjoy the city and home life. Perhaps a party at techno/house club, Prozak 2.0. A much welcomed sleep in.

It will be my last weekend in Krakow for a while, as, next week, the travels continue.
On Thursday we'll spend the night in Warsaw, on our way to Bialystok for the Up To Date Festival 2018.
After that, an abbreviated version of the original Baltic trip commences, when I travel from Bialystok to Vilnius, Lithuania. I'll also visit Tallinn – the primary purpose of this whole journey – and a couple of days in Riga, Latvia. I know I'll spend a lot more time in this region, no stress.

A short return to Berlin, the much-anticipated David August concert with a philharmonic orchestra in Hamburg, and a few weeks in the UK in October, are ahead.
Right now, my heart is in Krakow, and I'm enjoying every day.
I never expected to be side tracked like this, to find this peace, comfort and solace. I'm making the most of the opportunity to build connections in this vibrant Polish city. Collaborating in Krakow, on all sorts of levels.

Until next week, continue to dream, and keep on living them.
Sea you soon.