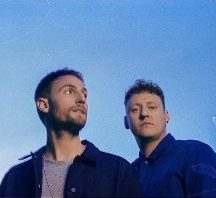 Brand new music from the UK's excellent Maribou State, consisting of Hertfordshire duo Chris Davids and Liam Ivory.
Their highly anticipated new album "Kingdoms in Colour" is coming September 7 2018. There are various tour dates before the official European album tour in October & November. We'll be attending the London Roundhouse gig in October, and we're looking at returning to Berlin in November for the Maribou State and David August November 18/19.
Maribou State is well worth checking out for fans of intelligent dance music (IDM) or those seeking a little more soul and melody in their electronic music beats.
More info: https://mariboustate.com
New! Review of Maribou State – Kingdoms in Colour
Bonus music from Maribou State
Here are a few more bonus videos from their excellent discography. We could post another dozen more – they have a consistent legacy of strong music.
About DigitalNomad.Blog
Digital Nomad is run by the original creators of Universal Metropolis and UMFM Radio. We seek to share music every week, and start building up our own new digital nomad radio network.
Learn more about DigitalNomad.Blog here…